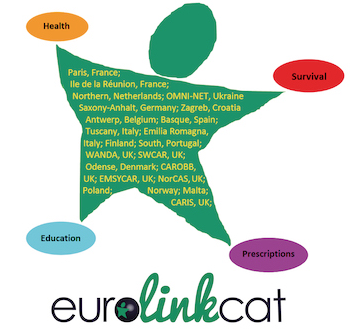 Nei giorni 7-8 aprile 2022 si terrà, in modalità online, la Conferenza finale del progetto EUROlinkCAT "Health and education outcomes of children across Europe with congenital anomalies".
Il progetto EUROlinkCAT "Establishing a linked European Cohort of Children with Congenital Anomalies" (coordinato dalla Prof.ssa Joan Morris, St. George London University) è stato finanziato nell'ambito del programma di ricerca ed innovazione dell'Unione Europea Horizon 2020, con la partecipazione di 13 Paesi europei.
L'Istituto di Fisiologia Clinica rappresenta uno dei 22 partner che sono stati coinvolti nel progetto. EUROlinkCAT ha utilizzato l'infrastruttura esistente del network europeo di sorveglianza delle anomalie congenite EUROCAT per supportare 21 registri in 13 Paesi europei, tra cui il Registro Toscano Difetti Congeniti, per incrociare i dati delle anomalie congenite osservate nel periodo 1995-2014 con i database di mortalità, dimissioni ospedaliere, prescrizioni farmaceutiche e i dati sui fabbisogni scolastici.
La Conferenza è rivolta agli operatori sanitari, ricercatori, educatori, studenti, genitori, tutori e tutti coloro che lavorano o sono interessati al tema delle anomalie congenite.
La Conferenza ha l'obiettivo di diffondere i risultati di EUROlinkCAT e definire una serie di raccomandazioni per l'assistenza medica e l'educazione dei bambini con anomalie congenite.
Il Convegno affronterà i seguenti temi:
Epidemiologia
Diagnosi prenatale
Esiti di sopravvivenza e morbosità
Assistenza medica
Risultati scolastici ed educativi
Le esperienze di genitori e tutori
Il ruolo delle associazioni di pazienti e dei genitori
Per accedere alla Conferenza, è necessario registrarsi al link:
http://www.eurolinkcat2022.bok-ump.pl/teksty.php?plik=registration.php
Scarica qui il programma completo:
http://www.eurolinkcat2022.bok-ump.pl/teksty.php?plik=scientific_program.php